Calvary and Aaron's Web Page
Domestic Short Hair / Mixed (short coat) : : Male : : Baby : : Medium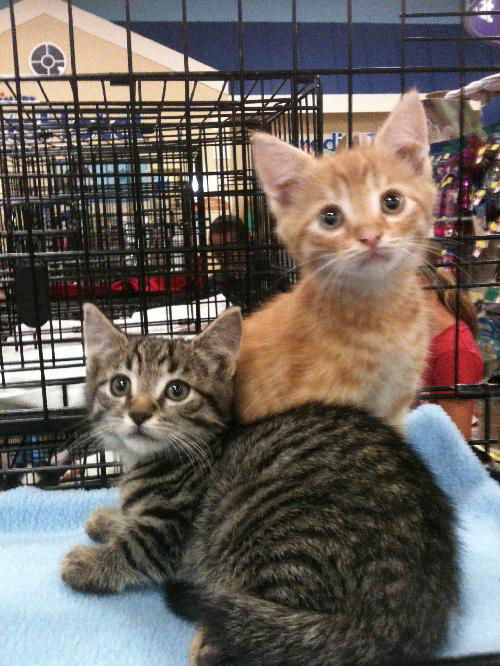 Application, References and Adoption Fee Required

Please visit us at www.KittyColony.org for more information about our rescue.
About Calvary and Aaron

Status: Adopted!
Species: Cat
General Color: Orange
Color: Tabby

Declawed: No
Housetrained: Yes
Carvary and Aaron are being fostered in Lancaster PA and are only available to be adopted within PA by families willing to come to Lancaster to meet them. They are eight weeks old as of 9/8/13. They are brothers, and must be adopted together. They are vaccinated, treated with flea and worm preventatives, and will be neutered when they are big enough.
Aaron and Calvary(Cal) are cuties! These boys were rescued from a feral colony where their mother was struggling to feed them, as she had barely enough food for herself.
Cal is a little shy, but will warm up in no time. He is very playful and is always on the look out for things to play with! Calvary is the Tiger kitten.
Aaron is a lovebug! He loves to cuddle and be petted. He cries for attention is super affectionate! Aaron is the orange kitten.
The adoption fee for Cal and Aaron is $160.
Please adopt these sweeties!
More about Calvary and Aaron
Good with Dogs, Good with Cats, Good with Kids

Please visit our sweet kitties at the Fruitville Pike Petsmart in Lancaster, PA on Saturdays from 1:30-3:30pm.

If you are interested in a specific cat or kitten, please email first to see if it will be shown that day.

Please email us at kittycolony@hotmail.com for more information.

Kitty Colony is a 501c3 non profit organization and all donations are tax deductible.