Watson's Web Page
Domestic Short Hair : : Male : : Baby : : Medium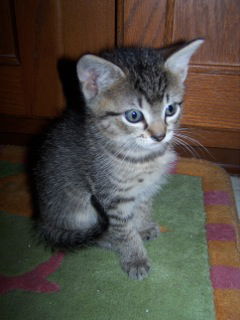 Contact Watson's Caretaker/Foster Directly: Rebekah (rebekahs@dejazzd.com)
Application, References and Adoption Fee Required

Please visit us at www.KittyColony.org for more information about our rescue.
Plays well with others
About Watson

Status: Adopted!
Species: Cat
General Color: Brown Tabby
Color: Tabby

Declawed: No
Housetrained: Yes
Watson is a friendly, cute and playful male kitten who is great with kids. Watson loves to play with his brother Thor. He had the benefit of spending 8 weeks with his loving mother (a family pet) where he learned to love people as well as other kittens and the family dog!
Watson is fully litter trained and used to working families who are gone several hours during the day.
Please visit Watson and his siblings at PetSmart (he is generally there on Sundays but some Saturdays - please check prior to coming to see when you can visit Watson).
More about Watson
Good with Dogs, Good with Cats, Good with Kids

Please visit our sweet kitties at the Fruitville Pike Petsmart in Lancaster, PA on Saturdays from 1:30-3:30pm.

If you are interested in a specific cat or kitten, please email first to see if it will be shown that day.

Please email us at kittycolony@hotmail.com for more information.

Kitty Colony is a 501c3 non profit organization and all donations are tax deductible.